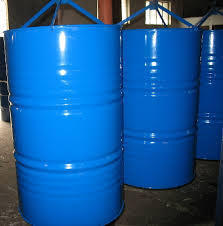 Methyl Methacrylate (MMA)
Price And Quantity
Product Specifications
−48 °C (−54 °F; 225 K)

Liquid
C5H8O2

A major application of MMA polymers and copolymers is in surface coatings and impregnation resins to give colour fastness and weather-resistance properties to latex paints, lacquer resins and stoving enamels.The principal application, consuming approximately 75% of the MMA, is the manufacture of polymethyl methacrylate acrylic plastics (PMMA).Methyl methacrylate is also used for the production of the co-polymer methyl methacrylate-butadiene-styrene (MBS), used as a modifier for PVC
0.94 Gram per cubic meter (g/m3)

Chemical formula C5H8O2 Molar mass 100.12 g·mol−1 Appearance Colorless liquid Odor acrid, fruity[1]Density 0.94 g/cm3 Melting point −48 °C (−54 °F; 225 K)Boiling point 101 °C (214 °F; 374 K)Solubility in water 1.5 g/100 ml Vapor pressure 29 mmHg (20°C)[1]Magnetic susceptibility (χ)-57.3·10−6 cm3/mol Viscosity 0.6 cP at 20 °C
Product Description
The Methyl Methacrylate (MMA) is available in different specifications and sizes. It is composed using safe chemicals that are procured from vendors. The chemical is utilized as methacrylate monomer single molecules combined together to create a solid polymer. The provided Methyl Methacrylate (MMA) is supplied in air- and chemically-safe packaging material.
Features:
Longer shelf life
Easy to use
Chemically most reactive
Our Methyl Methacrylate (MMA) has a fruity and sharp, which differ it from different chemicals. When the air level is low, the customers can smell MMA. This is utilized as a single molecule and chain bonds strongly to different substances. Moreover, inhaling the vapors of Methyl Methacrylate (MMA) is dangerous to health.
Trade Information
190 KG

Africa, Middle East, Western Europe, Eastern Europe, Asia
All India

ISO CERTIFIED CRISIL CERTIFIED
Contact Us
C/211-213, Morya House, Off. New Link Road, Andheri (West), Mumbai, Maharashtra, 400053, India
Phone :+918037401898